A blast from the past!  As published in 2017 –
Just found out I was awarded Best of Houzz award for my abstract nature paintings. This is the second year in a row. Wow, feeling so honored!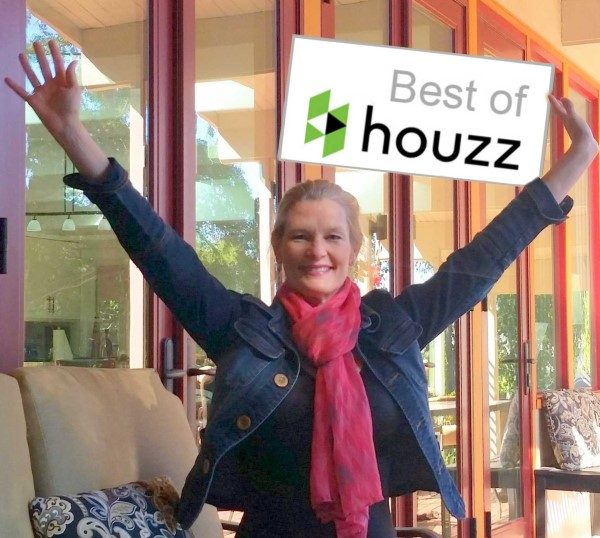 Huge thanks to my supporters and collectors and reviewers on Houzz. You are the best!
If you're not already familiar with Houzz, it is the leading platform for home design and remodeling. It is chock full of awesome images that people use to find design ideas for their homes.
To see what my paintings look like in collectors' homes, look at the pics below (or to the right, depending on your screen). Here's one example –
These awards were based in part on the many 5-star reviews received on Houzz and other testimonials from collectors.
Thank you to all the reviewers. You made my day (my year!)
---
[vc_column_text]
Just released . . . Free Art Book!
[/vc_column_text][vc_single_image image="10302″ alignment="center" onclick="custom_link" link="http://hollyvanhart.com/free-painting-inspirations-book/"][vc_empty_space height="16px" css=".vc_custom_1483468001264{background-color: #ffffff !important;}"][vc_column_text width="450px"]See Holly Van Hart's top 25 paintings, paired with favorite inspirational quotes. Free Book full of exciting images and ideas![/vc_column_text][vcex_button url="http://hollyvanhart.com/free-painting-inspirations-book/" align="center" size="medium" color="red" custom_color="#ffffff" custom_hover_color="#cccccc" css_wrap=".vc_custom_1483486607972{background-color: #ffffff !important;}"]FREE DOWNLOAD[/vcex_button][vc_empty_space height="16px" css=".vc_custom_1483468001264{background-color: #ffffff !important;}"]