Many many layers (and weeks) later, here is the finished painting . . .
So you can see the details, here's a 'flyover' of Ideas Everywhere –

And here is how Ideas Everywhere looks in my home –
Thanks for visiting!
---
Join our VIP community!
Be the 1st to see fresh off-the-easel paintings.
Plus get a FREE instant download of
Holly Van Hart's new book.
(Available on Amazon for $20)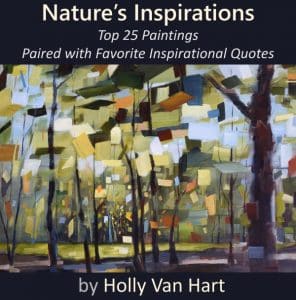 [vcex_form_shortcode style="modern" full_width="true" width="300px"][/vcex_form_shortcode]
VIP members receive one artsy email every 3 weeks.
Your info will never be shared.