You're invited to become a VIP member. You'll be the first to see the latest paintings, the inspirations behind them, and news on gallery shows.
All rolled into one fun, artsy email every 3 weeks. Free!
Join 650+ other happy members . . .
"Your emails are always so uplifting, supportive, encouraging and fun."
"I love your notes and read each one through to the end."
"I'm glad for the opportunity to get a first-look at your beautiful new paintings. Plus, your messages are inspiring!"
As a thank you, you'll also get a Free Gift . . . an instant download to my new Nature's Inspirations book!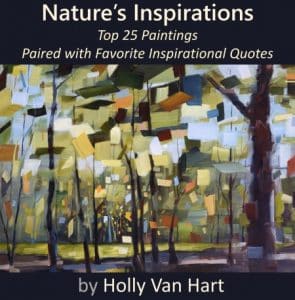 You can unsubscribe at any time.
Your info will never be shared.