A new article published on The Commissioned!
Meet Holly Van Hart, the Energetic and Calm Artist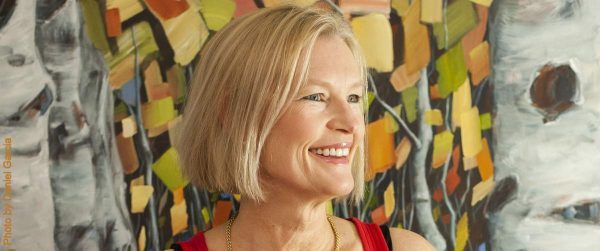 "You perfectly transformed my dream into reality in the form of a stunningly beautiful painting."
— Dr. S. Hall, Ventura, California (a satisfied collector of Holly's paintings)
One word that best describes your style: Energetic yet calm
1. What does a typical day in your life look like?
I wake up and can't wait to get painting! Usually I'm in the studio and painting in the early morning, then enjoy breakfast with my husband and sons, then back to the studio for a full day of painting. Evenings are for taking care of the business part of being an artist…updating my website, responding to emails, etc.
2. What does your studio look like?
I have a home studio in a separate part of the house that comfortably holds me and lots of canvases – big and small! It has lots of windows and even a door that is mostly a window.
3. Tell us one unique thing about you and your art.
Collectors tell me they find my work inspirational. I'm honored by that, because with titles like 'Possibilities Abound', 'Larger than Life', and 'Dream Weaver', that's exactly what I had in mind when painting them.
4. What do you love most about being an artist?
I love how it connects me to people…giving me new friends and strengthening ties with established friends.
5. What are 3 things you can't live without in a day?
Painting, chocolate, time with my family and friends.
6. Where do you get inspiration when you need it most?
Internally, and from looking around in nature. Also, other artists are a huge inspiration.
7. What does success look like to you?
Making paintings that I'm proud of, and finding collectors who love to have them.
To create a stunning piece of calm and beauty, visit http://hollyvanhart.com/commission-painting .
To see the rest of Holly's Top 50 Questions, click here.